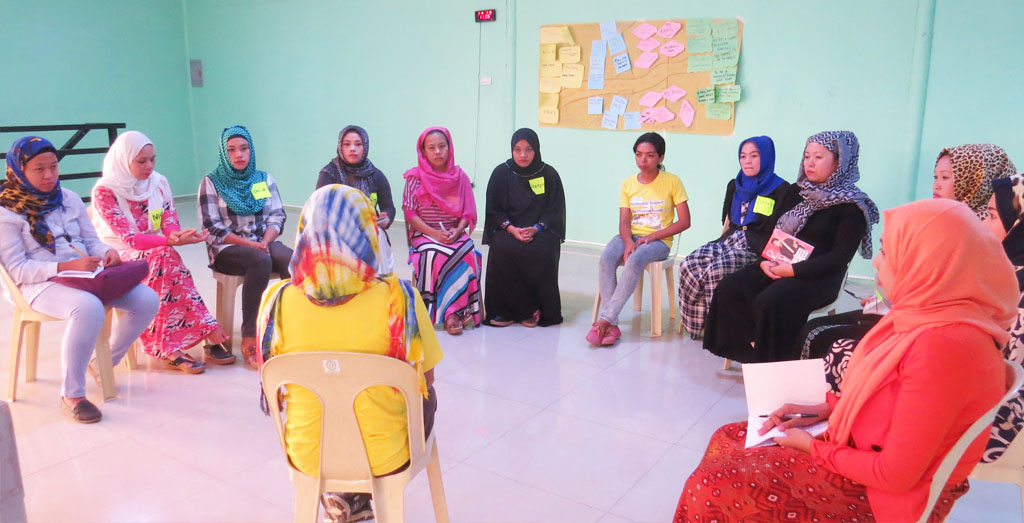 MARADECA has organized an initiative supported by Caritas Australia, the training of the first set of 10 volunteers to provide psychosocial intervention for women and children evacuees in a town in Lanao del Sur. Ten volunteers were trained to train other volunteers later as several thousands of residents continued to stay in the different evacuation centers in the municipality of Butig, whose interior villages have been wracked by armed skirmishes in April.
The training of the first ten volunteers was conducted at the Maradeca Session Hall in Barangay Ragayan, municipality of Marantao, Lanao del Sur. The activity was facilitated by Ms. Cristina Lomoljo, the Psychosocial Specialist from BIRTHDEV, a non-government organization based in Iligan City. The activity was planned to enhance the knowledge and skills of 10 volunteers on different approaches to psychosocial support and improve their listening skills, which in turn would be passed to 10 other volunteers.
MARADECA Inc. said the activity used the participatory approach employing several workshops, inputs and group activities. Different topics were discussed such as understanding psychosocial principles, overview of what a disaster is, psychological reactions after disaster, how to improve one's listening skills, psychological first aid in supporting people in the aftermath of a crisis event, and play activities after disaster. "These were undertaken with role playing, workshops and open discussions," Maradeca said.
Maradeca said the training helped the trainees to facilitate psychosocial interventions in the community "especially to those traumatized children and women". "The 10 volunteers have gained confidence and were able to strengthen their skills and knowledge about the importance of psychosocial for children and women after emergencies." It added. The training would provide additional manpower support for the internally displaced persons (IDPs) of the armed conflict in Butig Lanao del Sur which happened on April 10 this year.
Ms. Samania Pandita said "I am so happy that I was able to be part of the training". "It helped me understand that psychosocial therapy is very important for women and children affected by emergencies. I have learned that psychosocial therapy session is a venue to release traumatic experiences of a person. And if their feelings could not be immediately addressed especially for children, this would have effects into their whole life," she added.
"I am happy that I could treasure my learning even if whenever emergencies come in my life, family, relatives and to others," she said.