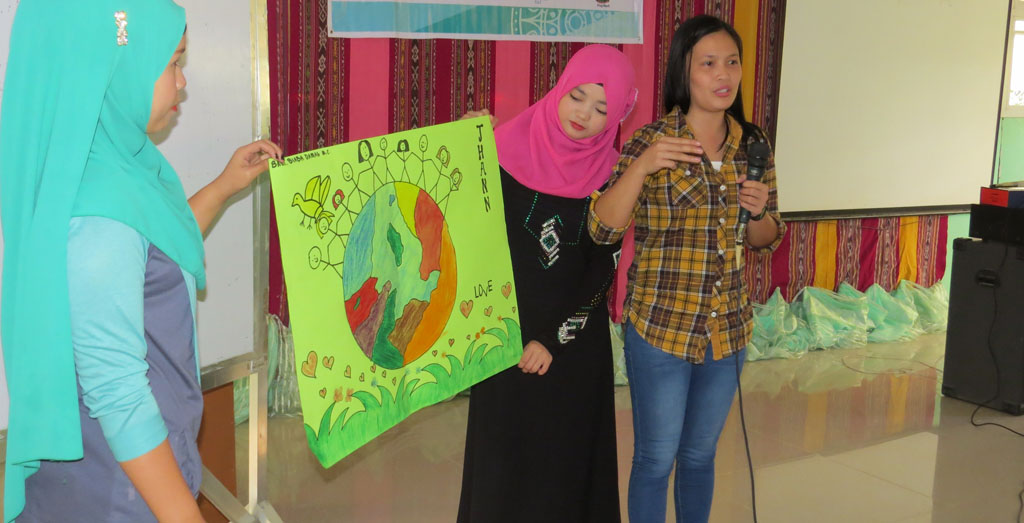 The Understanding the Self Training was conducted on November 22-23, 2016 for the youth sector and on November 24-25, 2016 for the women sector at the MARADECA Session Hall Barangay Ragayan, Marantao Lanao Del Sur. It was actively participated by twenty-nine (29) youth leaders composed of eleven (11) male and eighteen (18) female youth and thirty-two (32) women leaders from identified five partner Barangays of Marawi City namely; Barangay. Lomidong, Bubonga Marawi, Biaba Damag, Moncado Colony and Barrio Marawi.
The training were facilitated by Hanna O. Caunda Project Coordinator of Maradeca Inc. and Norliah B. Deron Training Officer. The main objectives of this training are to increase the understanding of the women and youth on the basic concepts of peace and conflict, enhance their self-understanding as a youth and women as well as their understanding of others and appreciate their important role as a youth and a woman in terms of peace building.
In this training youth and women leaders were expected to recognize on what they can do as a youth or as a women in their respective community and will provide a contribution in regards to the peace building effort in the grass roots level.
The training called for the attention of the youth and women to re-awaken and realize that they can contribute to promote peace in their various spheres of influence. The training is expected to help them be aware of themselves, and relate to the everyday situation that could lead to conflict within themselves or in the community.
Empowering youth and women are the foundation in promoting peace and order in the community. Knowing themselves also helps to understand and respect the ideas and opinion of the other person despite of different identity, race and religion.
The training aims to motivate the youth and women to be involved in decision making and to lessen their biases and judgement to others.
Developing the strength of the youth and women will greatly contribute in promoting peace in the community. It will influence how they perceive other in a rational way. Thru this gathering women and youth can build good relationship which is the starting point in achieving peace in the community.
Hence, knowing and changing the perception of themselves is the foundation of helping process within, with the end-in-view of achieving peace and order in the community in Lanao Del Sur.