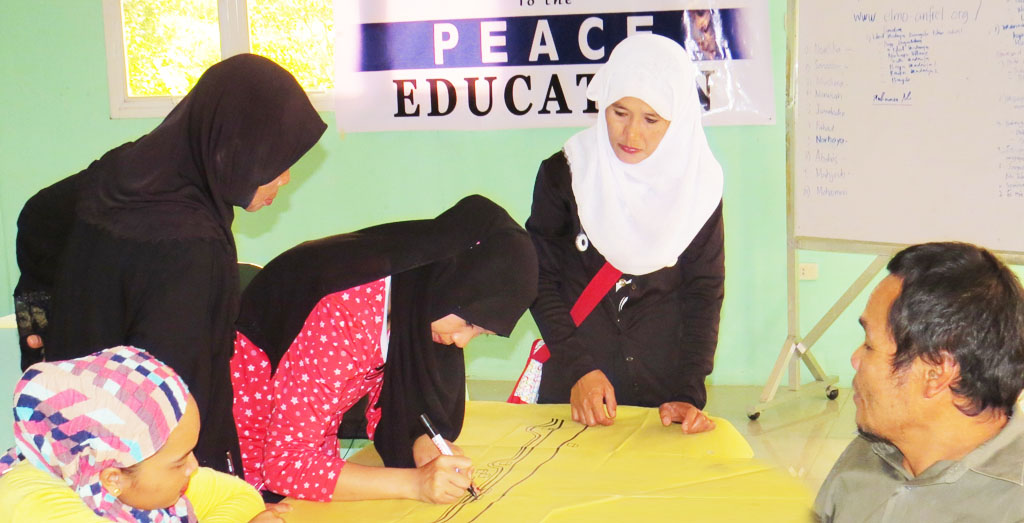 Participants in a peace education in Lanao del Sur shared best practices at resolving family and neighbourhood conflicts as Islamic leaders pointed out at the necessity to live in harmony with non-Muslims and to radiate peace to the community.
"Peace must start with ourselves, with our family and we replicate it to the community we belong," said Aleem Habib Sharief, a member of the Ulama League of the Philippines, and the lecturer of the Peace Education Seminar held on May 27, 2016.
Traditional leaders were around to lend their expertise at the seminar held at the Maradeca Session Hall in  Barangay Ragayan, Marantao in Lanao del Sur.
The activity wanted to increase knowledge and understanding of the peace actors in the current peace situations in Mindanao and enhance their skills and capabilities in propagating peace activities in their locality.
Aleem Sharief discussed the importance of understanding peace and solidarity and the different ways and techniques to resolve conflict through Islamic perspective.
The seminar has encouraged participants to share their best practices in resolving conflicts in their area. "Through this they were able to learn not only form the speaker but also from other conflict mitigators participants," the Maradeca said, which was the sponsor of the activity.
Ustad Salih Hadji Rasul, one of the participants said that there would be no development in a community
without peace, "because a peaceful community will improve the living of the people and this could be
attained by the support and cooperation of all stakeholders in the community and commitment of every
leader".
Mohammad Faisal Mikunug, another participant from the municipality of Bubong, Lanao del Sur said development and peace were the cornerstone of unity and understanding among Muslims and Christians "because if we do not have unity and understanding it will lead to conflict".
The Maradeca said the training woud help the "conflict mitigators and peace advocators in the community to handle and manage conflicts within their area".  Nadjeba Maruhom, peace and governance program staff of Maradeca Inc. said through the seminar, "it would somehow contribute to the peace and order in the communities".
The seminar was facilitated by the peace and governance program of Maradeca Inc, and supported by Caritas Australia. It was attended by 32 participants composed of members "from conflict transformers, local head officials, community people's organizations and religious leaders.