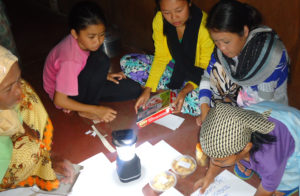 Sixty-six more residents served by community organizations in Lanao del Sur joined the previous other graduates of trainings on safe and sanitary food handling given by the the Maranao People Development Center (MARADECA) Inc.
This time, Maradeca's Enterprise Development Program (EDP) unit conducted series of Product Packaging trainings in the five communities of Lanao del Sur. These were done in Barangay Lumbac, in the municipality of Buadipuso Buntong, in Barangays Guimba and Cabasaran in Marawi City, in Barangay Sugod in the municipality of Madalum and in Barangay Dimapatoy, in the municipality of Bubong.
"The training aims to enhance the attractiveness and salability of community products through proper packaging to increase their production and sales," the Maradeca said.The products that were packaged were special cassava cakes, dodol, palapa, banana and cassava chips.
Participants were taught on the importance of packaging food products and how to market the products that would be appealing to consumers, Maradeca said.
Product packaging training in Brgy. Dimapatoy, Bubuong, Lanao del Sur
The trainings were facilitated by Omaimah B. H.Joharie,, program staff of MARADECA.
The EDP Staff and officers of OBAERA also attended the actual training that "emphasized on the importance of packaging of food products, the kinds of packaging, tips on marketing the products and actual demonstration so that participants will appreciate the benefits of good packaging will lead to increase of sales/income", Joharie said.
A participant said that the training was "very helpful to us because it taught us to be creative in order to enhance the products that we had and through this training, it will attract customers thus it will increase our sales".