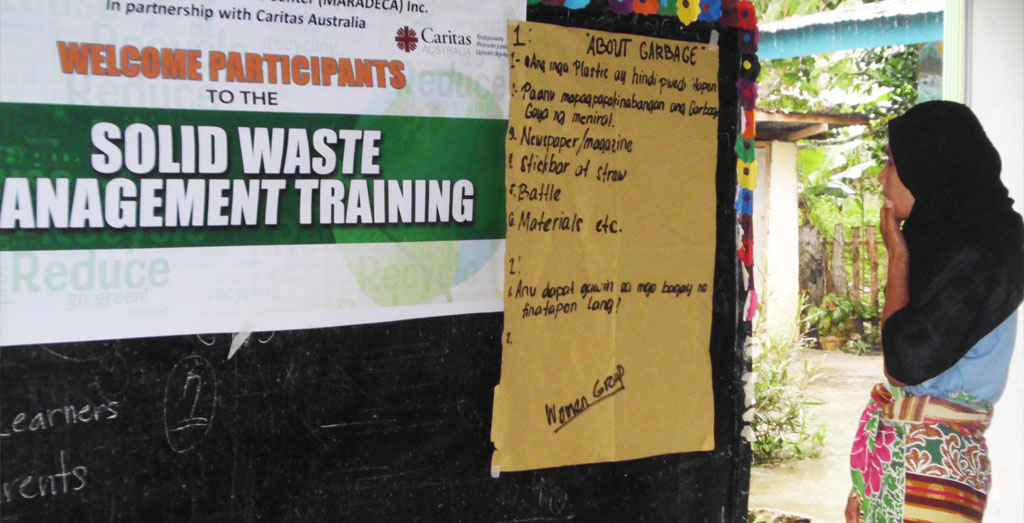 A training organized by the Maranao Development Center Inc through its Sustainable Enterprises Development Program (SED), attended by 34 men and 37 women from the community groups OTR and OBAERA, and the youth and other community members taught the participants the principles of segregation.
Resource person, an academe-based social worker in Marawi City and a community program coordinator asked residents to inculcate the importance of solid waste segregation to lessen an adverse impact on the environment. Mr. Esmail Derico Amer, registered social worker from the Mindanao State University in Marawi City told participants that "improper management of solid waste may bring negative impact to public health of the community and bring environmental destruction".
Amer encouraged the participants "to start practicing proper waste management in your own homes such as segregating biodegradable and non-biodegradable items and practicing the 3Rs, or reuse, reduce and recycle."
Mr. Najer Hadji Jalel, Program Coordinator of MARADECA INC., said that "managing solid waste can help improve the livelihood condition of the community." This includes adopting compost organic waste "where they can use it as fertilizers for their farms". A participant from Barangay Diolangan of the municipality of Bubong, said that the training "was very enlightening because it made me realize the importance of proper waste management."
"This is everyone`s concern, like using plastic bags were they commonly use it without thinking of its negative effect on the environment," he said, citing its long process of decay that would take as long as 100 years. He encouraged other participants to stop patronizing plastic bags and shift to basket bag instead.
Maradeca has partnered with Caritas-Australia to conduct the Solid Waste Management Training in the municipality of Masiu, in Barangay Langi-Talub and Barangay Diolangan in the municipality of Bubong Lanao del Sur. The trainings were held from April 12 and April 14, 2016. The trainings aim to educate the community on the importance of solid waste management in the community and its interconnected to health and environment.