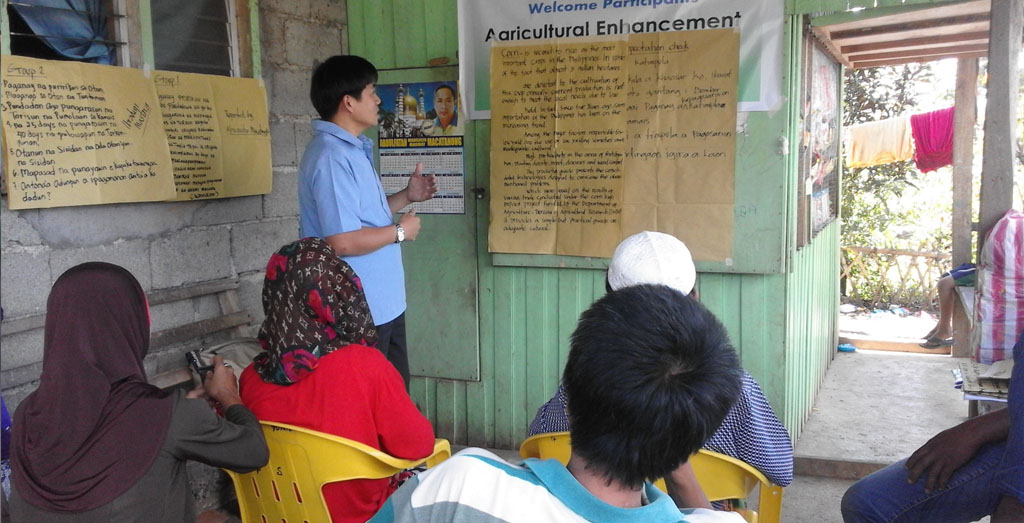 Selected farmers from four communities in Lanao del Sur have been trained to adapt to new rice and corn farm technology to increase yield and reduce farm expenses. One hundred thirty participants from the municipalities of Bubong, Lumbayanague and Masiu trained under Mr. Jamil D. Amer, the agricultural development officer of Phil Rice Research Institute, an agency attached with the Department of Agriculture.
The Maranao People Development Center through its Community Sustainable Development Program, selected the 98 men and 32 women from Barangays Diolangan and Salipongan of the municipality of Bubong, Barangays Moriatao Datu of the municipality of Lumbayanague and Barangay Langi Talub in the municipality of Masiu.
The series of activity was dubbed Trainings on Agri-Enhancement Farming and these were conducted on February 10, February 15, March 10 and March 24, all this year. The training aimed to enhance the skills and knowledge of farmers in their farming practices "in order to have a high yield of harvest and reduced their farm expenses", the Maradeca Inc. said.
Mr. Amer highlighted in the training "the suitable seeds and quality to be used in farming". He said that seeds accredited by Philrice are suitable seeds for their farms and emphasized to farmers that in rice farming, "land preparation and proper water management is essential to the production of the rice".
The OTR Chairperson in Langi Talub, Mr. Ismael Mosur, said the training "is essential for them because their source of living are farming and they need to increase their knowledge and learn new ways in order to increase their farm production". Mr. Mosur encouraged other farmer-members to try and adopt the learning they had and not to depend solely on natural or old ways of farm practice.
Mr. Mohammad Noor Bangcola, a OTR member in Barangay Moriatao Datu, thanked the facilitator and MARADECA Inc. for the training saying "they able to learn the do`s and don'ts in farming and the information are very reliable since they come from the expert". The said training is also supported by Caritas Australia.