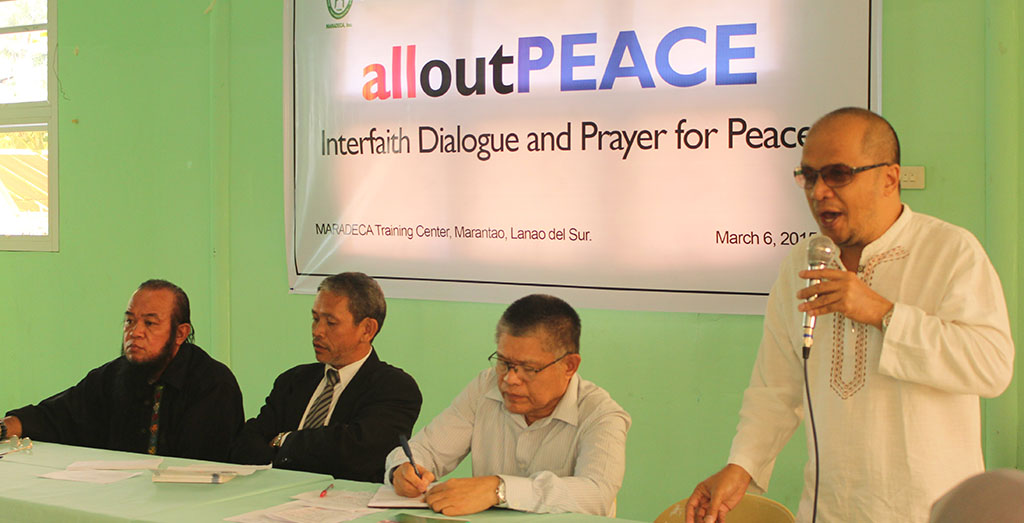 On March 6 this year, the Maranao People Development Center (Maradeca), Inc., through its peace and governance program, organized  a dialogue that called for sobriety and peace in the aftermath of the controversial battle in Mamasapano, Maguindanao.
The All Out Peace dialogue at the Maradeca Convention Center, in Barangay Ragayan, Marantao, Lanaodel Sur was a simultaneous sympathy gatheringof Moro groups and peace advocates in other parts of Manila, Luzon, Visayas and Mindanao.
The activity was a response to the tragic Mamasapano incident in Maguindanao on January 25 this year "that caused the adverse sentiment towards the Bangsamoro Basic Law. It is aimed to gain public attention on the need for national unity and healing", the All Out Peace Coalition said.
The Interfaith gathering was participated by civil society organizations, religious sectors, and academe from the Lanao provinces.
Organizers said "there was exchanges of ideas, opinions and outlook concerning the emerging Morophobia and the recurrence of unfounded prejudices and biases against Muslims in Mindanao".
The interfaith prayer for peace was said by AleemHabib D. Sharief for Muslims and Fr. ChitoSuganob of the Prelature of Marawi for Christians.
Sharief is an alim and the president of Maahad Darussalam Al Islam. He announced that the Ulama League of the Philippines had released a statement that stressed "in the midst of the unfolding peace, in spite of undesirable Mamasapano incident and the many episodes of fighting in the past, we should not forget the important agenda of bringing peace in Mindanao".