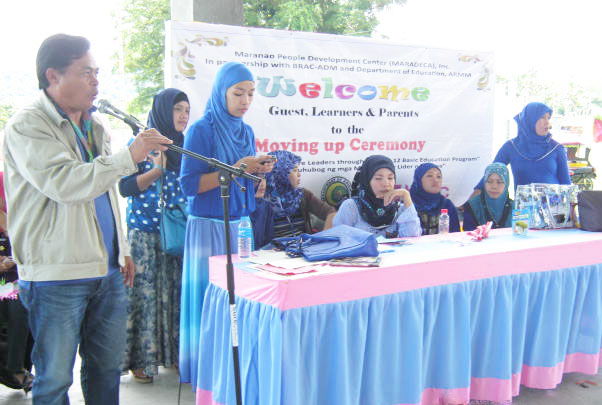 The Maranao People Development Center Inc. conducted its first BRAC Centralized Moving-Up Ceremony by municipality with the theme "Building the Nation's Future Leaders through the K to 12 Basic Education Program."
It province-wide activity was conducted simultaneously from May 1- 10, 2013. The various sub-activities were held at the different towns' Municipal Hall or Barangay Hall while others held the program at their Municipal Gymnasium.
The moving-up ceremony was designed to showcase and celebrate the one (1) year school education classes of the pre-school  to level up to grade 1 in the next school year. These pre-school learners ignited the event with their intermission numbers and were successfully implemented with the support of learning facilitators and project
organisers.  The ceremony was also witnessed by the project heads of the BRAC, Philippines, Municipal Local Government Unit, City Government and Barangay Local Government Units. They supported the ceremony through sharing their inspirational messages as guests to the event.
The ceremony motivated the learners to move forward, encouraged communities to fully support and join the project by enrolling their out-of-school children to MARADECA-BRAC School.
Hon. Fahad Salic, the present city mayor of Marawi also witnessed the ceremony. He reiterated in his speech that the MARADECA- BRAC Project was an answer to three of society problems. He mentioned this as: Violence, Ignorance and Poverty.